Profesor digitalizuje wszystkie gatunki ryb na świecie
Na naszej planecie żyje prawie 25 000 gatunków ryb, a profesor Uniwersytetu Waszyngtońskiego chce je wszystkie zeskanować i zdigitalizować.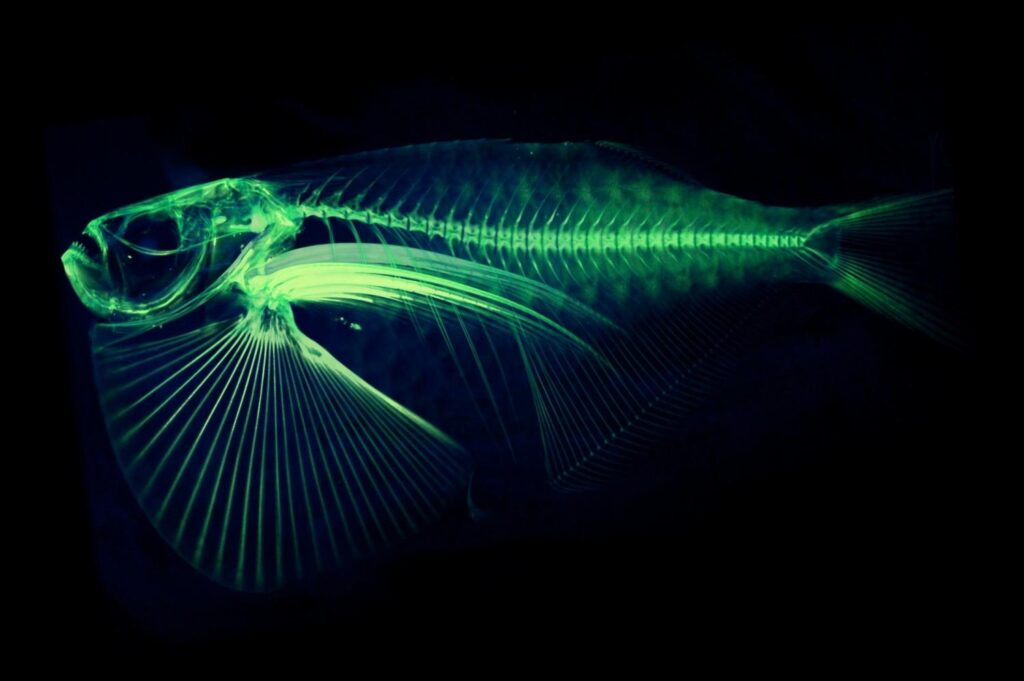 Oznacza to, że wkrótce każdy gatunek będzie miał dostępną dla wszystkich i bezpłatnie do pobrania trójwymiarową replikę wizualną w wysokiej rozdzielczości. Naukowcy, nauczyciele, studenci i ichtiologowie-amatorzy będą mogli przyjrzeć się najdrobniejszym szczegółom szkieletu gładzika lub wydrukować w 3D dokładną replikę aligatora arktycznego.
Te skany zmieniają sposób, w jaki myślimy o danych 3D i dostępności"

powiedział Adam Summers, profesor biologii i nauk o wodach i rybołówstwie z UW, który jest liderem projektu.
Summers, który pracuje w Friday Harbor Laboratories UW, używa małego skanera tomografii komputerowej (CT) na zapleczu laboratorium, aby uzyskać dziesiątki skanów ryb z okazów zebranych na całym świecie. Urządzenie działa jak standardowy skaner CT używany w szpitalach: seria zdjęć rentgenowskich jest wykonywana pod różnymi kątami, a następnie łączona za pomocą przetwarzania komputerowego w celu utworzenia trójwymiarowych obrazów szkieletu.
Celem jest umożliwienie naukowcom zbadania morfologii określonego gatunku lub próby zrozumienia, dlaczego wszystkie grupy ryb mają podobne cechy fizyczne, takie jak "zbroja" z kościstą głową lub zdolność do kopania w piasku.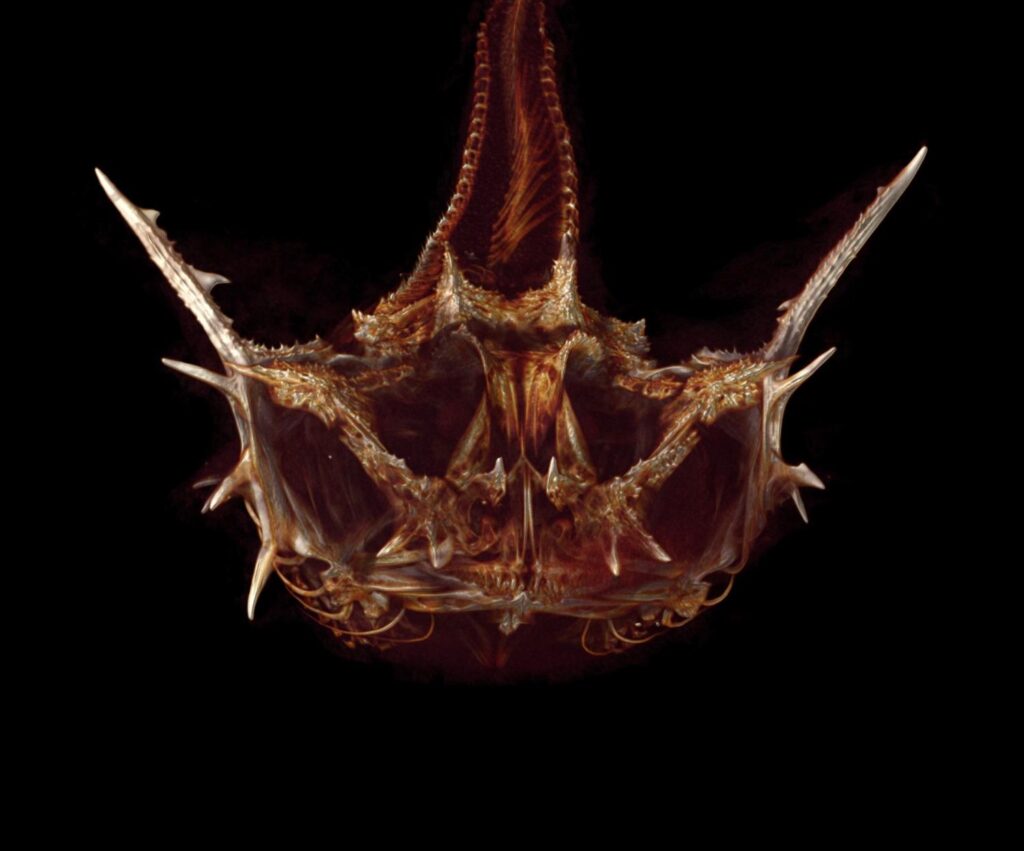 Fajnie było wrzucić te dane do sieci i sprawić, by ludzie faktycznie z nich korzystali

– powiedział Summers.
Do tej pory naukowcy nie mieli łatwego – ani taniego – sposobu na uzyskanie szczegółowych, trójwymiarowych skanów stworzeń. Summers wspomina, że ​​musiał błagać szpitale o zeskanowanie jego okazów.
Z biegiem lat Summers i współpracownicy opracowali bardziej wydajne sposoby skanowania próbek w większych partiach w szpitalach, ale każdy skan był nadal bardzo kosztowny – od 500 do 2000 USD.
Summers dostrzegł potrzebę posiadania własnego skanera i w listopadzie ubiegłego roku zebrał 340 000 dolarów na zakup maszyny, która obecnie mieszka w Friday Harbor Laboratories. Jego polityka jest taka, że ​​jest bezpłatny i otwarty dla każdego, kto chce z niego korzystać, a ryby muszą pochodzić ze zbiorów muzealnych.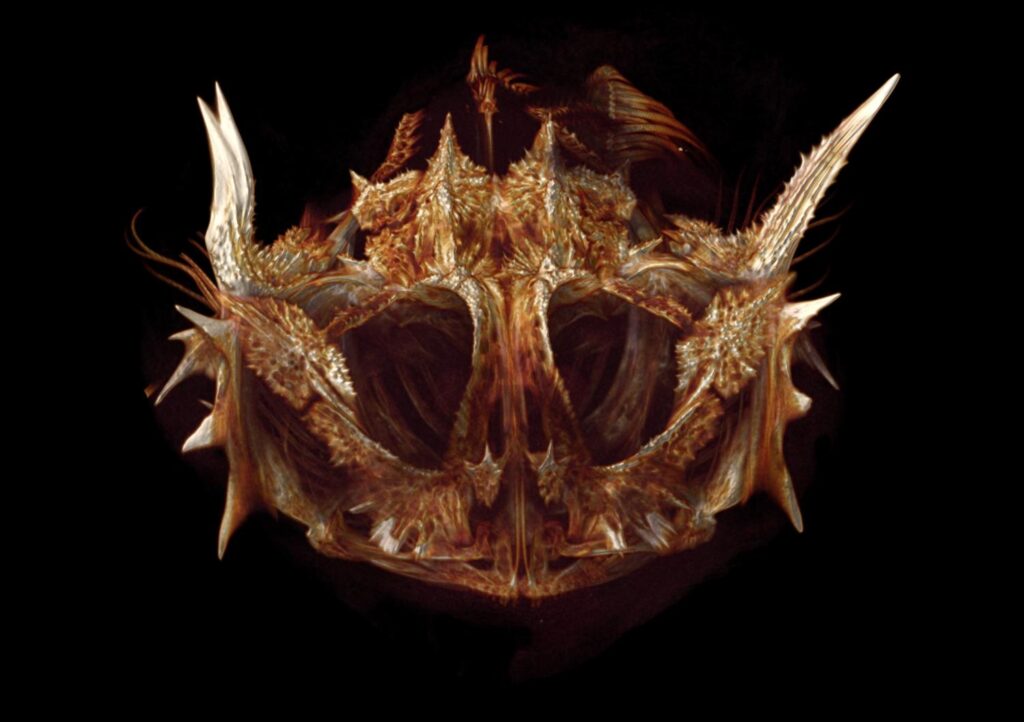 Studenci, badacze z tytułem doktora i profesorowie z całego świata skorzystali z oferty Summersa i przyjechali do laboratoriów na wyspie San Juan, aby zeskanować swoje ulubione okazy. Wysyłają również pocztą skrzynki z okazami ryb do laboratorium Summersa, aby zeskanować je i opublikować w Internecie. Ryby ze zbiorów muzealnych można śledzić za pomocą numerów, a internetowa baza danych zawiera obecnie skany ryb z Burke Museum of Natural History and Culture, Narodowej Akademii Nauk w Filadelfii, Ohio State University, Western Australian Museum i wielu innych.
Po prostu robimy wspólny wysiłek, aby wszystko było zrobione. Posiadanie tego skanera pokazało mi niesamowitą moc tego systemu, jeśli pomyślisz o tym we właściwy sposób.

– powiedział Summers
Większość naukowców korzystających z danych 3D ryb wydaje się być zainteresowana pomiarem morfologii – na przykład długości określonej kości – lub poszukiwaniem aspektu anatomii, którego nigdy wcześniej nie widziano. Skany pozwalają na cyfrowe powiększanie pod wieloma różnymi kątami lub drukowanie naturalnej wielkości lub większych plastikowych replik ryby. Summers dopracował i przyspieszył ten proces, skanując wiele ryb jednocześnie. Najpierw pakuje i zwija próbki razem jak burrito w cylinder, który jest następnie umieszczany bezpośrednio w skanerze. Po tym, jak maszyna wykona jeden skan, Summers cyfrowo oddziela każdą rybę 3D do własnego pliku.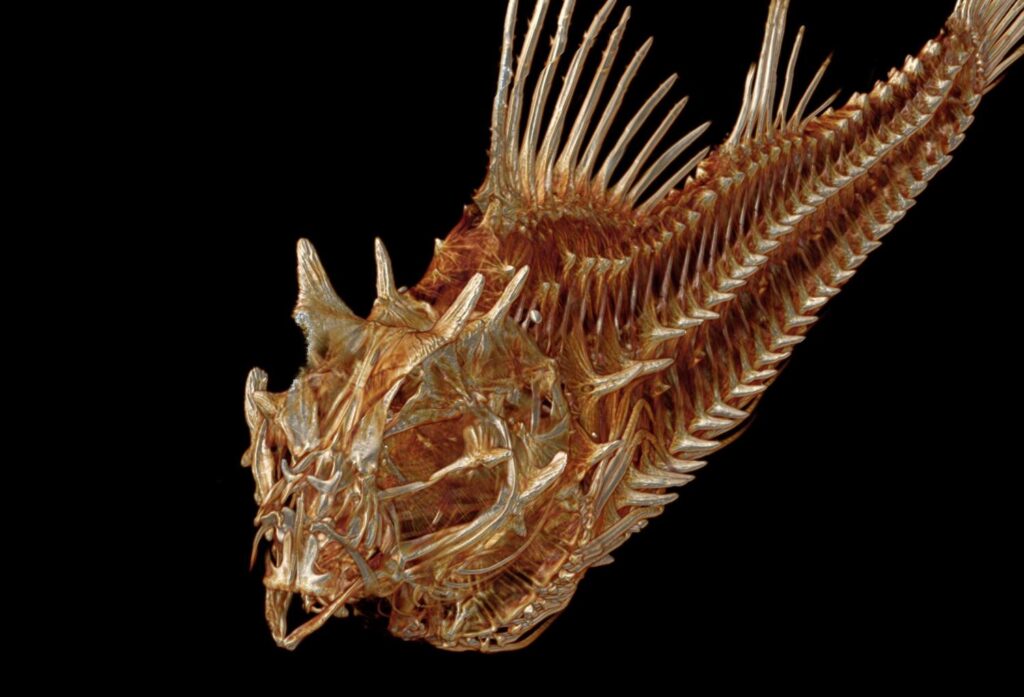 Dodatkowo nie skanuje w najwyższej możliwej rozdzielczości, ponieważ niewielu naukowców potrzebuje tak bardzo szczegółowych danych. Oszczędza to więcej czasu i przestrzeni cyfrowej – i umożliwia ludziom łatwiejszy dostęp do plików online.
Do tej pory zeskanowano około 515 gatunków, a wiele z nich zostało umieszczonych w Internecie na Open Science Framework, otwartej witrynie internetowej umożliwiającej udostępnianie projektów naukowych. Summers oczekuje, że skanowanie wszystkich gatunków ryb na świecie zakończy się w ciągu dwóch i pół do trzech lat.