Napowietrzacz Aquael OXYPRO – pod lupą
Firma Aquel jesienią 2012 roku wypuściła na rynek najcichszą pompkę napowietrzającą. Ponieważ nasze testy wykazały rzeczywiście jego bezgłośną pracę, postanowiliśmy sprawdzić co jest tajemnicą sukcesu tego brzęczyka i wzięliśmy go pod lupę.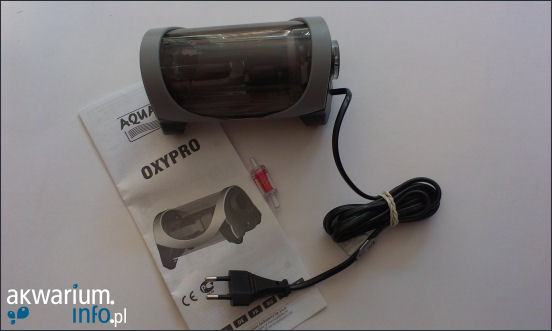 Po wyjęciu z pudełka pompka rzeczywiście wyrożnia się już samym wyglądem. Korpus wykonany jest z przezroczystego plastiku, dzieki czemu możemy zobaczyć co kryje się w środku urządzenia. W zestawie znajduje się oczywiście instrukcja, karta gwarancyjna oraz zawór zabezpieczający pompkę przez cofnięciem się wody. Brak jest niestety wężyka doprowadzającego powietrze do kostki.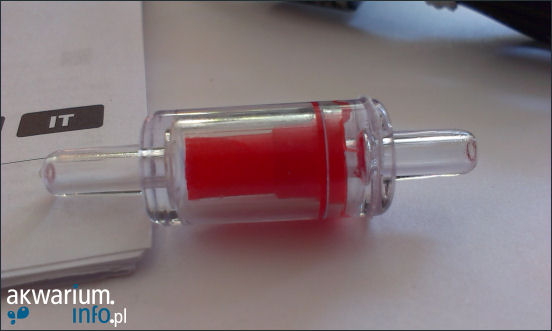 Zawór dołączony do zestawu jest po prostu zaworem. Jednak Aquael zadbał by nawet on wyglądał równie futurystycznie jak sama pompka. Wnętrze zaworku jest czerwone czego nie spotkaliśmy w żadnym produkcie konkurencji Aquaela. Naszym zdaniem jest to dbałość o szczegóły ze strony producenta. Ale to wyróżnia firmę Aquael już od dłuższego czasu.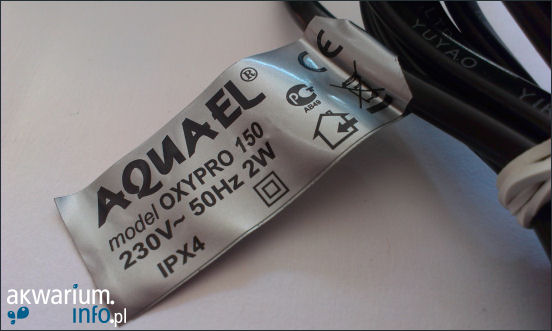 Oczywiście sama pompka ma wszelkie niezbędne certyfikaty. Certyfikat CE jest deklaracją producenta, że oznakowany produkt spełnia wymagania dyrektyw tzw. "Nowego Podejścia" Unii Europejskiej (UE). Jeśli dany wyrób podlega przepisom chociaż jednej dyrektywy nowego podejścia, to bez oznakowania CE nie może być wprowadzany do obrotu ani użytkowania na terenie Unii Europejskiej.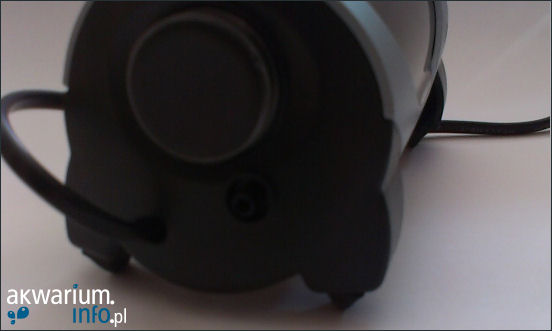 Pompka z przodu posiada jedno wyjście na wężyk napowietrzający. Czy oznacza to że możemy użyć OXYPRO do zasilania tylko jednego zbiornika? Oczywiście nie. Możemy w powodzeniem zastosować pompke do kilku mniejszych zbiorników stosując rozgałęziacz. Przypominamy że pompka może z powodzeniem pracować 2m poniżej poziomu lustra wody.
Widok pompki od góry i dołu. Tu widać wnętrze brzęczyka tak samo jak i z góry. Na dobrą sprawę od razu możemy się przekonać co producent ukrył w środku. Jednak wygląd środka nie zdradza tejemnicy jego praktycznie bezgłośnej pracy. To co bardziej przyciągnęło naszą uwagę to miękkie, gumowe nóżki.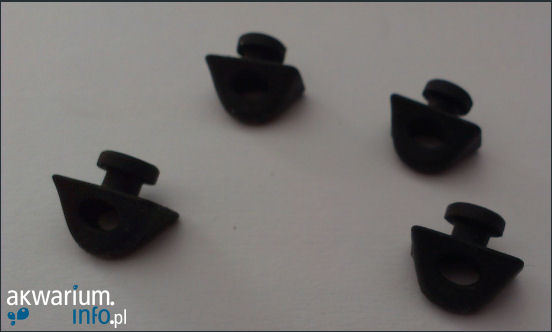 Jak się okazuje gumowe nóżki można bez problemu zdjąć z pompki. Zakłądając że OXYPRO będzie pracowała długie lata, możliwość wymiany nóżek jest bardzo ważna. Wiadomo że guma po latach może stwardnieć i dlatego konieczność wymiany tych elementów będzie z czasem nieunikniona. Na uwagę zasługuje też budowa samych nóżek. Skonstruowane są one w taki sposób, aby pochłaniać wibracje brzęczyka. Niewątpliwie ma to wpływ na jego cichą pracę, ponieważ zmniejsza rezoans. Ale czy to jedyny sposób na pozbycie się hałasu?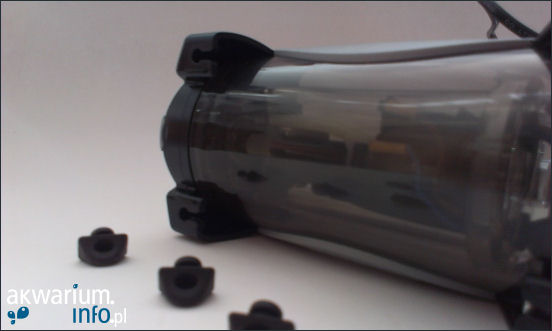 Pompka bez nóżek. W prosty sposób nóżki można zdjąć oraz założyć spowrotem. Nie są one przyklejane do podstawy. Zatrzask powoduje też że nie uszkodzimy nowych nóżek podczas ich zakładania. Oczywiście nie jest to bez znaczenia.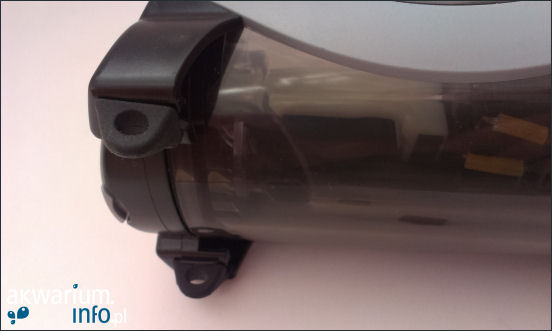 Przeprowadziliśmy mały test i postanowiliśmy sprawdzić czy częste zdejowanie i zakładanie nóżek może je uszkodzić. Testowa nożka została zdjęta i założona 40 razy. Oczywiście nie podejrzewamy aby akwarysta miał potrzebę takiego działania, jednak przypominamy ze testowaliśmy jedynie ich wytrzymałość. Następnie na 12 godzin przygnietliśmy pompkę ciężarkiem 1kg tak by nóżki zostały przygniecione do twardego podłoża. Jak widać guma nie zapamiętała kształtu i wróciła do swojego poprzedniego stanu. Świadczy to o wysokiej jakości materiału zastosowanego do ich produkcji.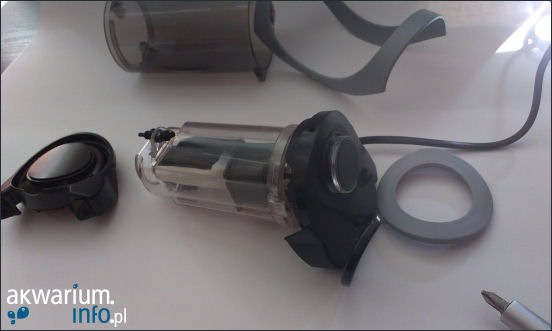 Świetnie skonstruowane nóżki powinny zniwelować część drgań przy pracy, dlatego postanowiliśmy pójść o krok dalej i sprawdzić jak pompka będzie pracowała bez nich. Pompka bez nóżek wykazywała drgania, jednak i tak male jak na urządzenie o takiej mocy. Postanowiliśmy sprawdzić jakie jeszcze tajemnice kryje urządzenie Aquaela i rozebraliśmy pompkę.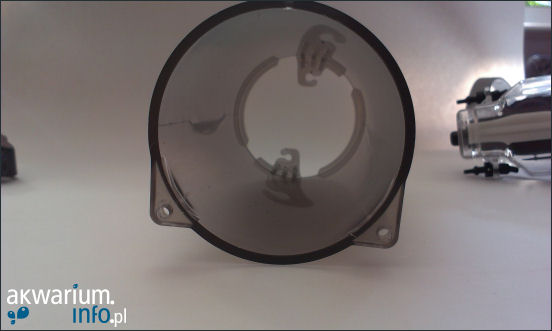 Serce pompki osadzone jest w tubie która oczywiście tłumi hałas i drgania. Jak się okazuje silniczek napędzający nie dotyka w żadnym miejscu do obudowy. Na zdjęciu widać zaczepy które mocują do pokrywy wnętrze OXYPRO. Jak zatem producent zamocował silnik do walca pokrywowego?
Z obydwu stron silnik przymocowany jest do pokrywy za pomocą gumowych zaczepów. Pełnią one nie tylko funkcję mocującą, ale też niwelującą drgania wywołane podczas pracy pompki. Czyli zaczepy pełnią funkcję czterech amortyzatorów. Amortyzatory można też bez problemów wymienić w razie potrzeby.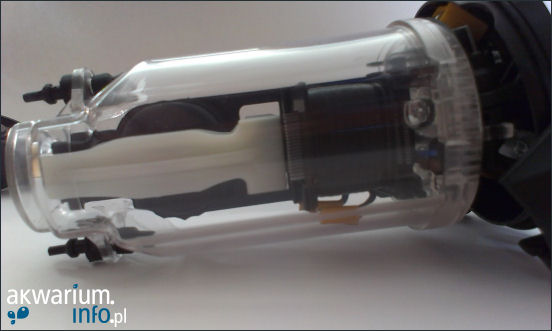 Serce pompki nie tylko ukryte jest w obudowie, ale zamknięte jest dodatkowo w transparentnej obudowie. Dodatkowa pokrywa silnika nie tylko umożliwia użycie amortyzujących zaczepów, ale też chroni wnętrze urządzenia przed wilgocią oraz tłumi hałas generowany podczas pracy.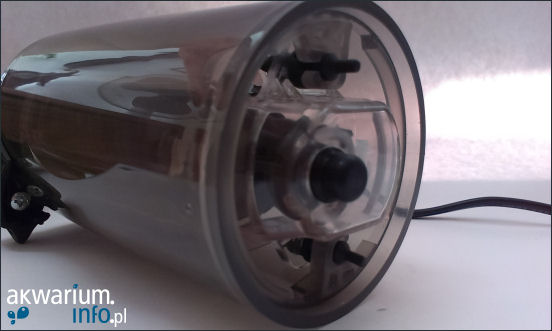 Tył pompki po zdjęciu obudowy. Przedstawiamy tu w jaki sposób silnik zamocowany jest to zewnętrznej pokrywy. Zaczepy trzymają pompke mocno w obudowie, a jednocześnie umożliwiają łatwe rozmontowanie brzęczyka w razie awarii.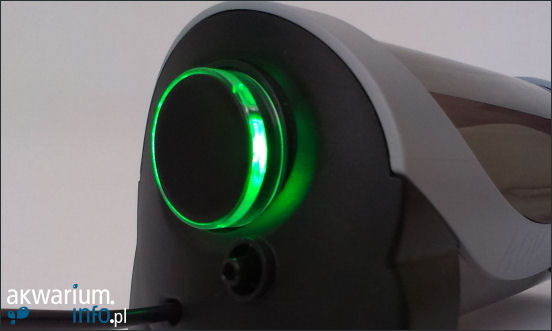 Na tym nie koniec innowacji ze strony Aquaela. Pompka posiada podświetlane pokrętło za pomocą któreg możemy w prosty sposób regulować ilość bąbelków powietrza w akwarium. Łatwo można dzięki temu regulować siłę napowietrzania nawet w nocy.
Niewątpliwie pompka ze stajni Aquaela jest bardzo ciekawą pozycją na rynku akwarystycznym. Innowacyjne rozwiązania czynią ją bardzo atrakcyjnym produktem, a praktycznie bezgłośna praca jest jej czołowym atutem. Z czystym sumieniem polecamy pompkę wszystkim akwarystom.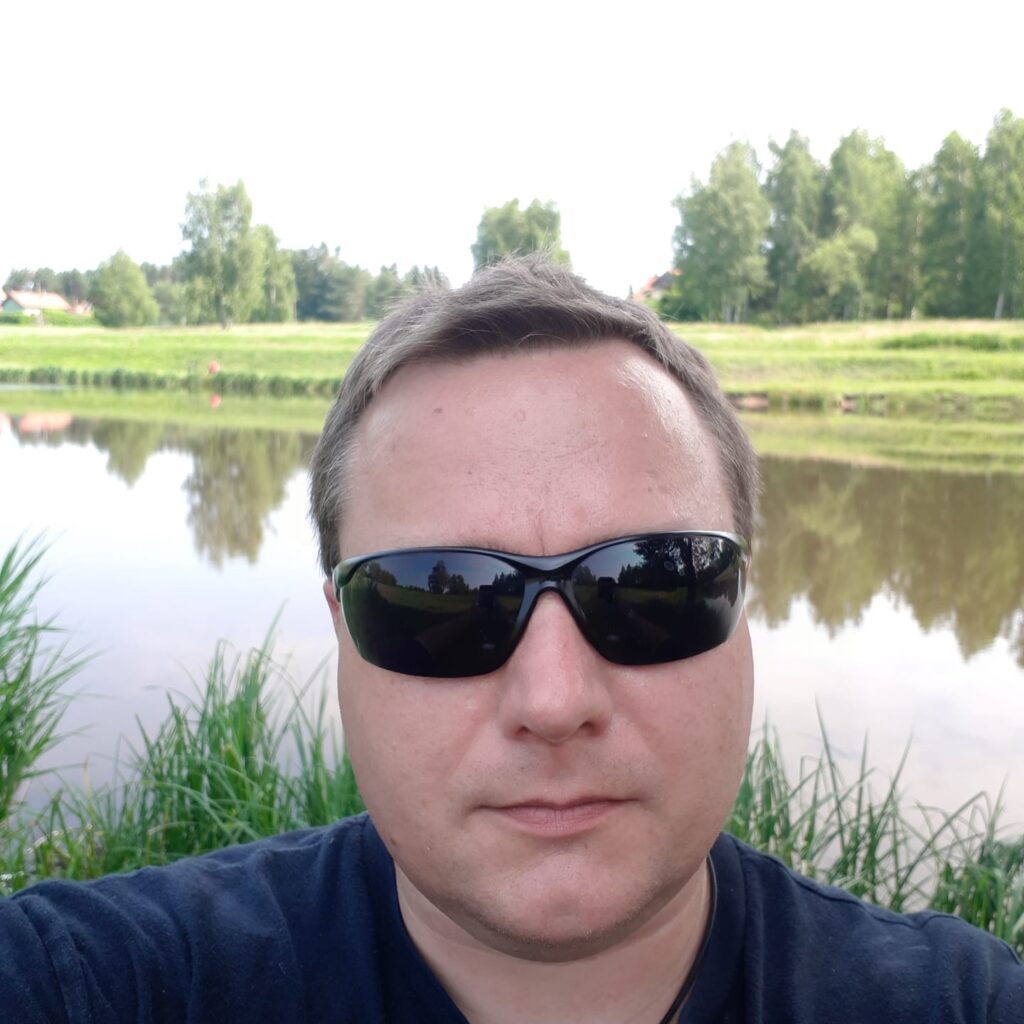 Autor: Rafał Kozera
Założyciel portalu akwarium.info.pl, miłośnik biotopów, aquascapingu oraz wszystkiego związanego z tematem akwarystyki. Sędzia w konkursach akwarystycznych.