Molinezje "robią falę", żeby uniknąć zjedzenia
Naukowcy zaobserwowali, że pewne ryby wykonują określone manewry w wodzie, żeby uniknąć zaatakowania przez drapieżniki. Robią tak na przykład molinezje Poecilia sulphuraria, czyli słodkowodnym gatunku, który swoją łacińską nazwę wziął od faktu, że najczęściej znaleźć go można w zbiornikach bogatych w siarkowodór.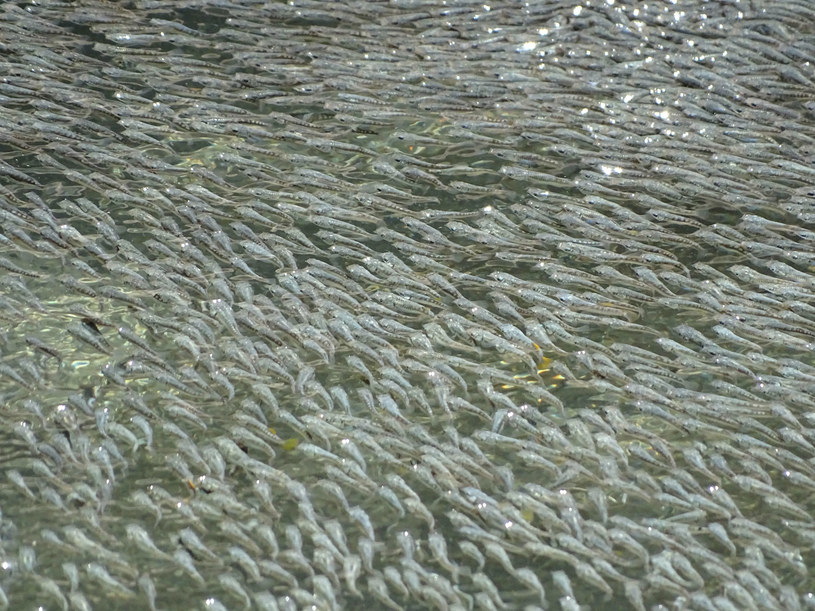 Badacze niemieckiego Leibniz Institute of Freshwater Ecology and Inland Fisheries, zauważyli podczas obserwacji liczących setki tysięcy osobników ławic tego gatunku w okolicach meksykańskiego miasta Teapa, a swoje badania opisali w naukowym magazynie Current Biology.
Żeby uniknąć ataku ze strony ptaków – molinezje ze względu na małą ilość tlenu w akwenach, w których żyją, gromadzą się często zaraz pod powierzchnią wody – ryby błyskawicznie nurkują grupami, rytmicznie poruszając przy tym ogonami i tworząc widoczne na powierzchni wody fale. Molinezje kontynuują swój "taniec" przez kilka minuty, co oznacza, że nie chodzi tylko o prostą ucieczkę w głębszą wodę, ale całkowicie zorganizowany mechanizm obronny.
Niespodzianki pojawiły się, gdy zdaliśmy sobie sprawę, ile ryb może działać razem w tak powtarzających się falach"

– dodał współautor i ekolog Jens Krause, również z Instytutu Leibniza
Reakcja nurkowa u molinezji siarkowych prawdopodobnie najpierw wyewoluowała jako indywidualne zachowanie ucieczki wobec atakujących ptaków

– wyjaśnili naukowcy w swoim artykule.
Niejasne pozostaje jednak to, dlaczego fale zdają się zarówno odstraszać ptaki od ataku, jak i sprawiają, że wykonywane ofensywy mają mniejsze szanse powodzenia.
Być może ta fala sprawia, że ryby trudniej dostrzec na powierzchni wody albo ptaki mają świadomość, że ich atak został dostrzeżony, co może znacznie obniżyć jego skuteczność.
Na metr kwadratowy przypada do 4000 ryb, a czasami w jednej fali ryb biorą udział setki tysięcy ryb.
Chociaż potrzeba więcej badań, aby to zbadać, zespół zasugerował, że fale mogą dezorientować ptaki – lub mówić im, że zostały zauważone.